5 Santorini Private Tours for Exclusiveness & Enjoyment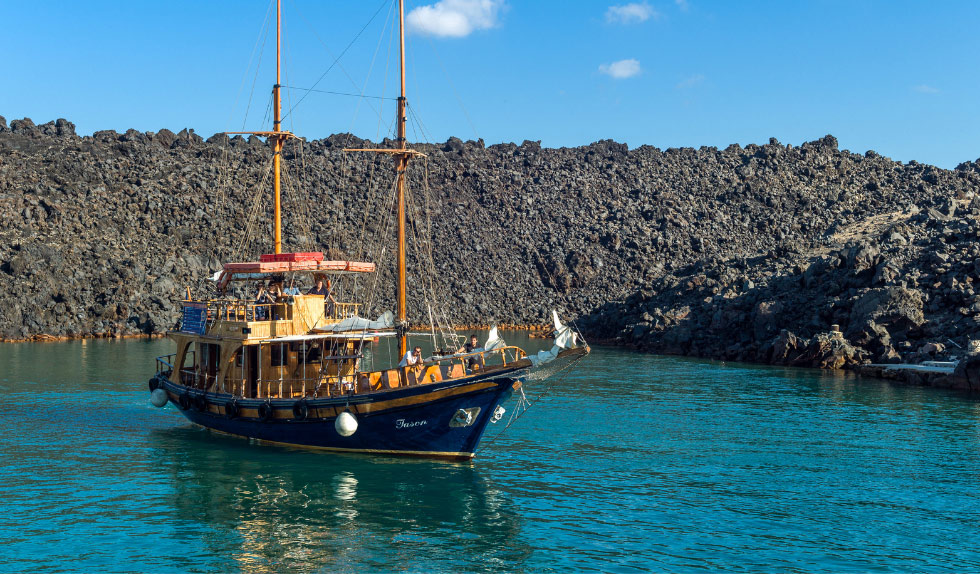 What can be even more exciting than Santorini tours that introduce you to all the delights of this gorgeous Cyclades island with the unique morphology? Being given a chance to soak up the charms of the Queen of the Cyclades, skipping the crowds of 100s of other visitors wanting the same thing at the exact same time as you.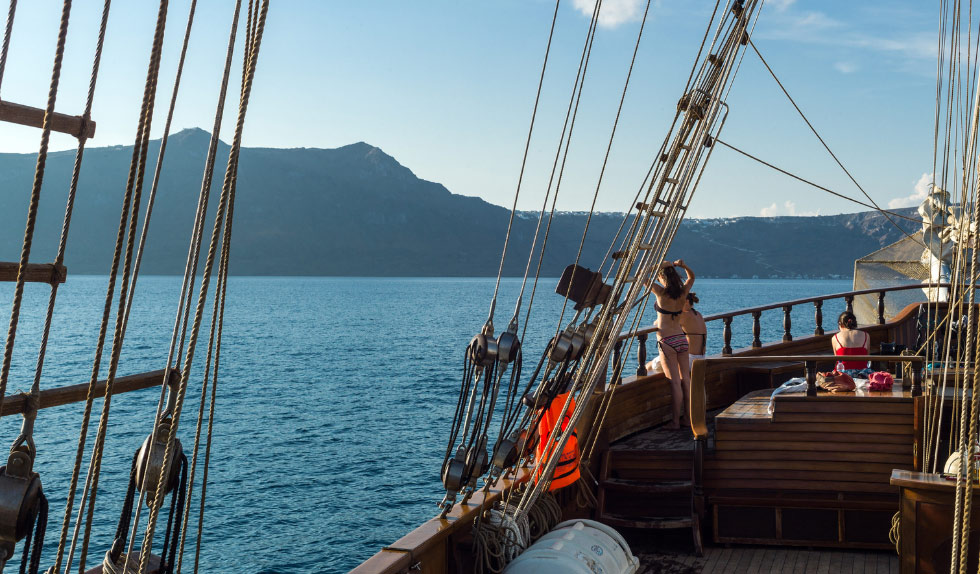 Santorini private tours are the solution to that, and truth be told, they offer a fantastic array of exclusive experiences that suit all tastes and needs. Here are some options to pamper yourself with (or even combine for an all-around holiday experience).
1. All-time classic day sightseeing tours to the volcano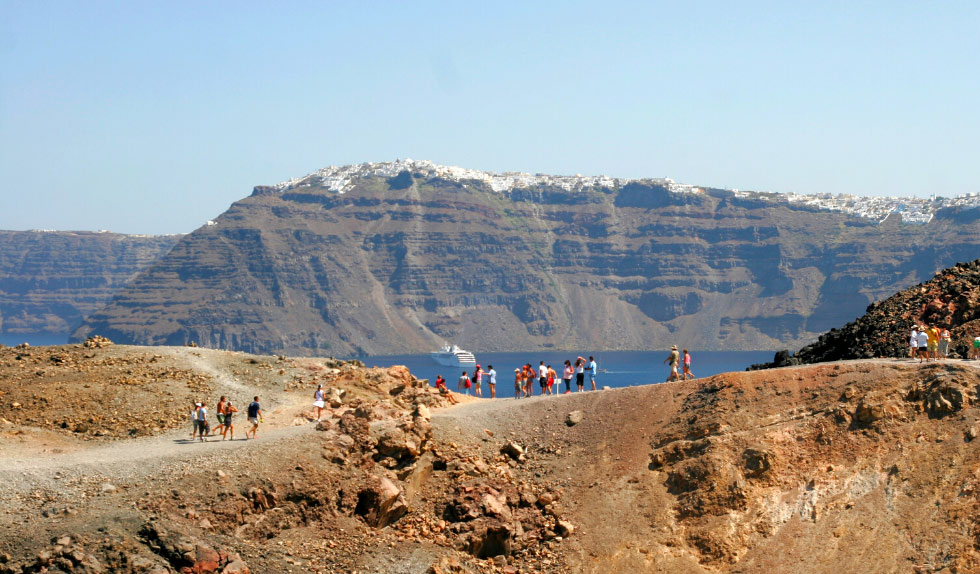 Famous for its lava-shaped formations that have impacted many aspects of living on the island, a Santorini volcano tour is definitely an experience worth chasing here. Such tours usually depart from the old port of Fira, heading to the volcano by boat (a short 10-minute boat ride), where you can see all active craters from up close.
Of course, the Santorini Caldera is a top sight to explore as it has inspired the settlements situated on the rim of the hill surrounding the volcano. Turning the stone and rock formations into their cozy and hospitable homes, the locals are quite fond of their cave houses that still highlight the best of traditional Cycladic architecture. Once used as churches, homes for the impoverished, and warehouses, the cubic-shaped cave houses follow the natural lines of the caldera and invite visitors with their surreal landscape.
Today, you will find luxury accommodation options featuring Santorini cave suites, like 5* hotel Mayson Des Lys, offering minimalistic and utterly elegant and stylish suites. Overlooking the caldera and providing exquisite views of the glistering sea, they offer high-end amenities like Jacuzzis, jetted bathtubs, and private furnished patios and balconies.
Feel free to request one of the available Santorini private tours to the volcano and pamper yourself with authentic Santorini experiences as you walk by the whitewashed houses and the awe-inspiring caldera.
2. Healing your body and spirit with a Hot Springs bath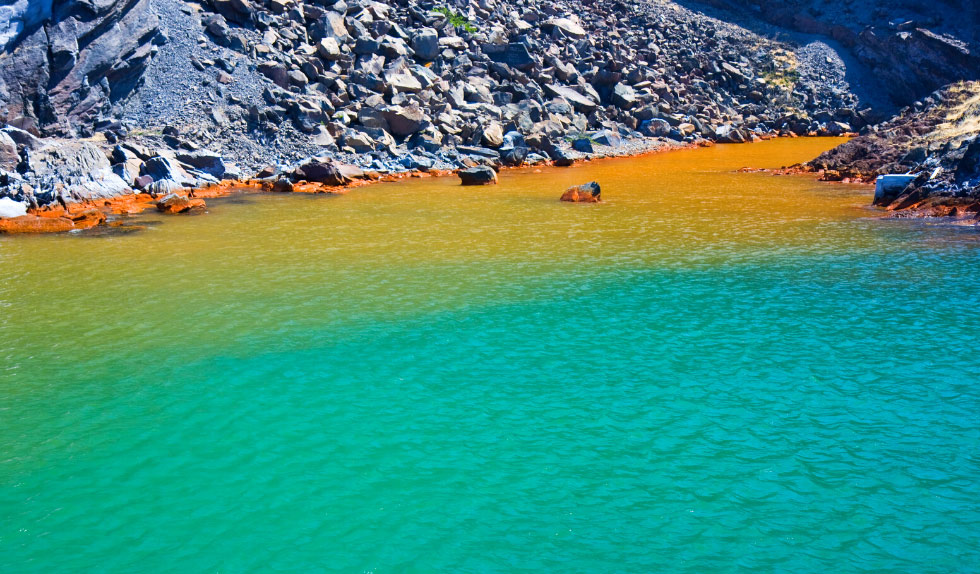 The majority of Santorini private tours offer visitors the opportunity to soak in the sulfur-rich waters of the Santorini Hot Springs. Situated at the nearby islands of Nea Kameni and Palea Kameni, they are a pole of attraction for thousands of arthritis sufferers and individuals after wellness and wellbeing due to their therapeutic properties. The water temps range between 30-35oC.
While here, you can also dive into the crystalline waters of Agios Nikolaos beach or continue to the island of Thirassia and swim in the cobalt sea or eat in the traditional family-run tavernas. And, if you feel like it, why not even go for a donkey ride to the picturesque Manolas village?
Don't forget to have your camera ready for some amazing shots as you return to the old port at the end of the day. You will probably be sailing close to the Oia volcanic cliffs, which will allow you to capture some heart-stopping Santorini sunset views against a particularly unusual setting.
3. Pleasing your palate with local wines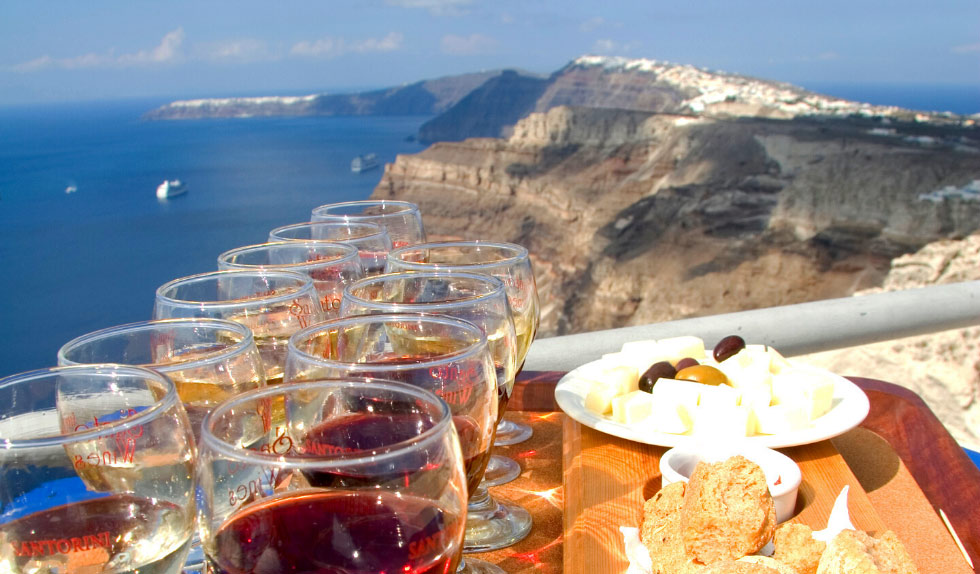 Many visitors are eagerly anticipating to treat their taste buds to the internationally renowned wines produced in Santorini. No wonder wine-tasting Santorini private tours are in such high demand every year. Therefore, you could ask for a visit to a specific winery or have a tour around the most notorious winemakers on the island and sample crisp and refreshing wine styles, like Assyrtiko wine. You will even be able to see how wine is produced and also taste some local delicacies and mezedes while gazing at dramatic vistas of the Perissa beach (aka Black Sand Beach or Black Beach) – the longest black stretch of sand in Santorini.
4. Familiarising yourself with the local culture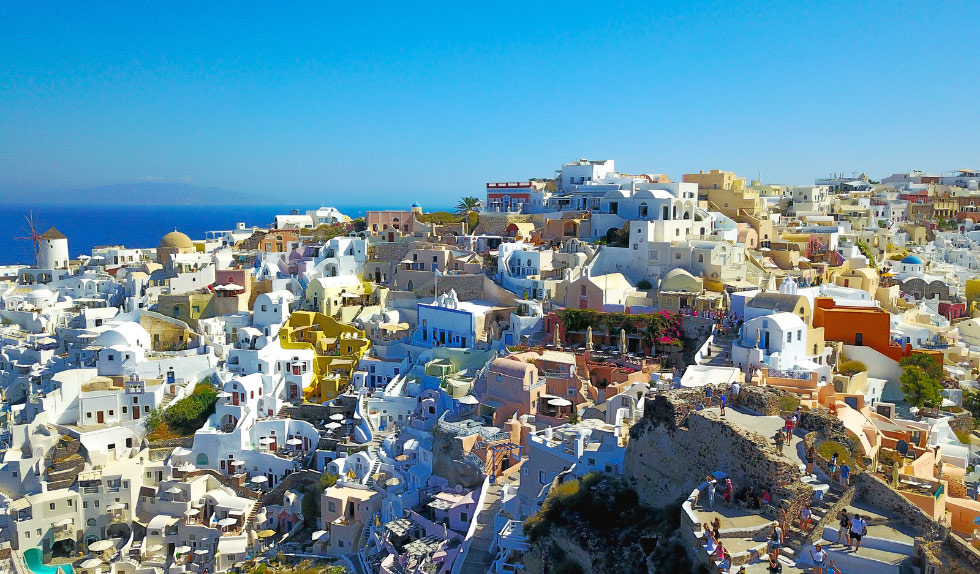 If you are interested in mingling with the locals and seeing how they go by their everyday lives, you could opt for a tour around the Santorini villages. Besides Fira, Imerovigli, Akrotiri, and Oia, which give a more cosmopolitan sensation to visitors, small towns like Vothonas, Karterados, Mesa Gonia, Finikia, Messaria, and Emporio give off a more intense Santorini vibe. Expect vivid medieval colours, vast vineyards, castles, old windmills, neoclassical mansions, cave houses, and Byzantine churches. Some of them are also away from mass tourism, offering peaceful and tranquil getaways. With time moving at a slower pace here than anywhere on the island, you will manage to catch locals as they go fishing, make hand-made pastry onion pies, and enjoy their ouzo at the local kafeneio!
5. Rekindling love or adding more romance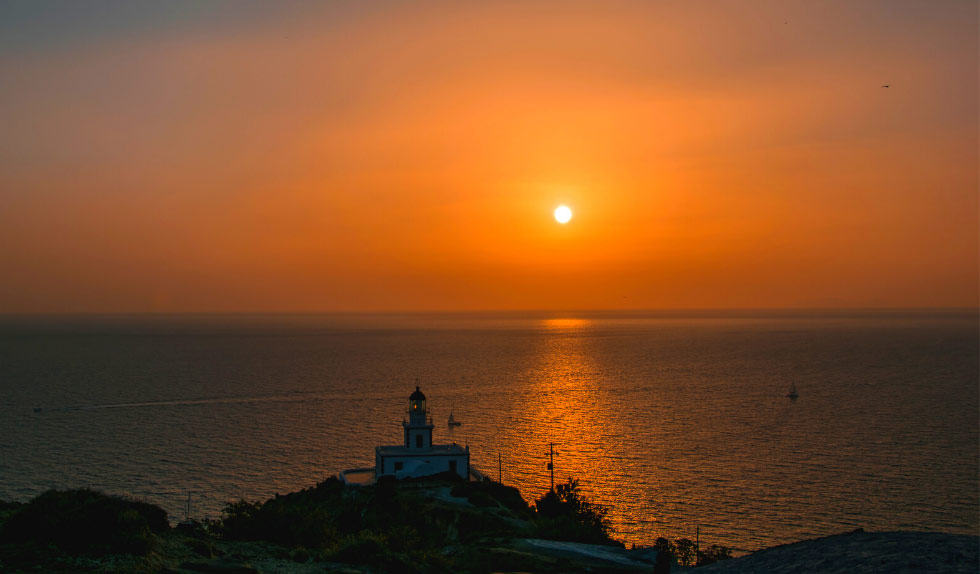 Couples that have chosen to have a Santorini honeymoon trip usually seek more opportunities to share romantic moments with their significant other. Of course, any of the above options can also be idyllic enough for newlyweds. It all depends on the energy you put into something, be it a stroll along the cobblestone streets of a remote Santorini village or a scuba diving endeavour.
However, among the most honeymooners-perfect Santorini private tours are sunset cruises and catamaran sails. You could, for example, select a trip to the nearby Cyclades islands just before the sun slips behind the horizon and savour the golden shades that flicker in the shimmering sea. Depending on your requirements, you may even enrich your experience with meals and drinks onboard prepared by private chefs.
Note that all personal tours can also be provided with bird's eye views nearly like the ones you can get from the exclusive Maison DesLys Santorini suites. In this case, you can go with a private helicopter tour and visit all major local sights, isolated coves, secluded beaches, hilltop blue-domed churches and castles, and other islands as you please.
Santorini – Housing options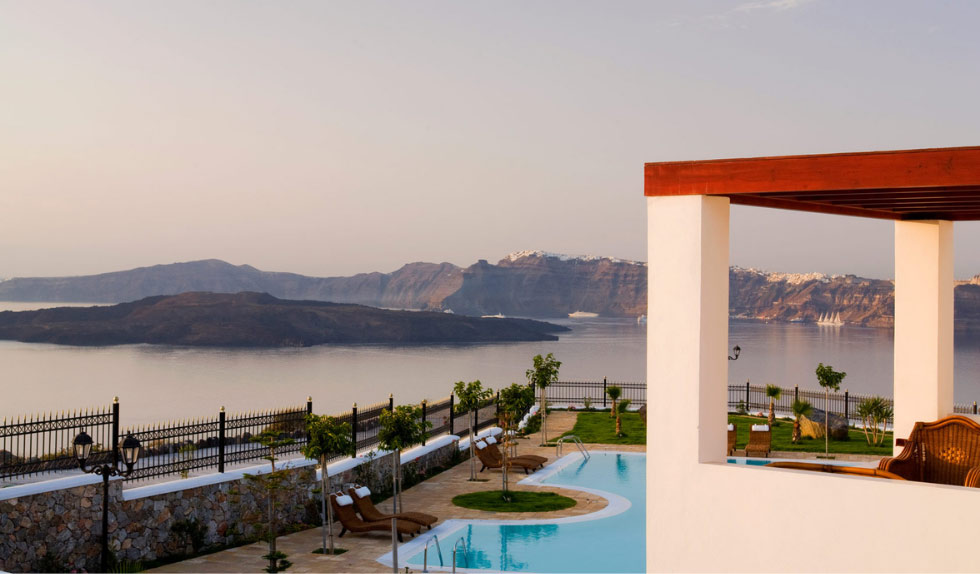 You can find any type of accommodation on the island, depending on the adventure you want to live and your budget. From budget-friendly B&Bs to 5* Santorini hotels with a private pool like Maison Des Lys, you are definitely spoilt for choice. Of course, a luxury resort will offer you a versatile stay distinguished by top amenities, world-class facilities, and high-standard services specifically addressing those that wish to maximize their Santorini holiday adventures. Time to give yourself the pampering it deserves and the VIP lifestyle you are used to.