Santorini Volcano – Rebirthing Santorini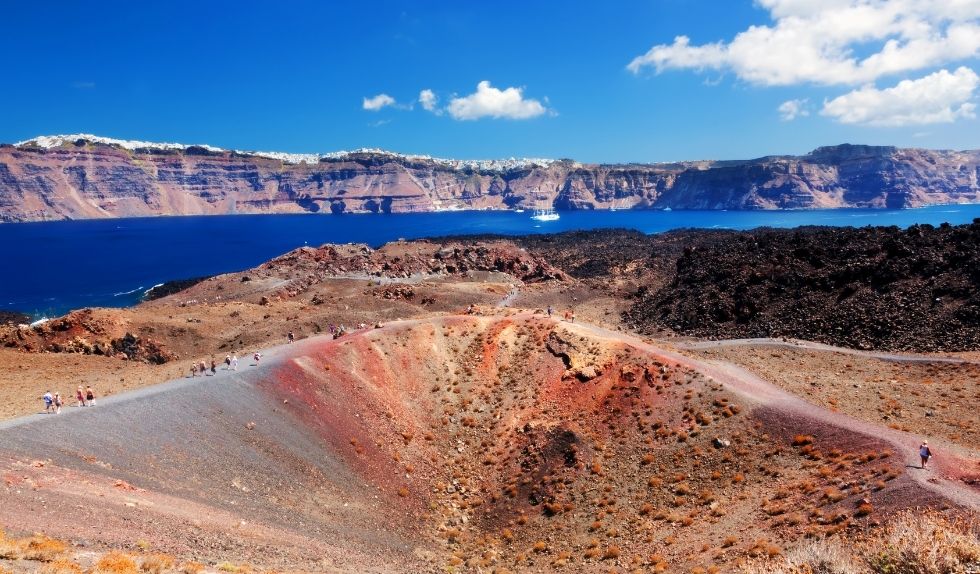 The Santorini volcano is one of the most popular local landmarks and a tourist hotspot for international travelers and holidaymakers visiting the beautiful Greek island. The now dormant volcano of Santorini is home to an incredible landscape welcoming guests to an amazing lava scenery, charming cave houses, craggy peaks, enthralling black-sand volcanic shores, and, of course, stunning sunset views across the Aegean Sea.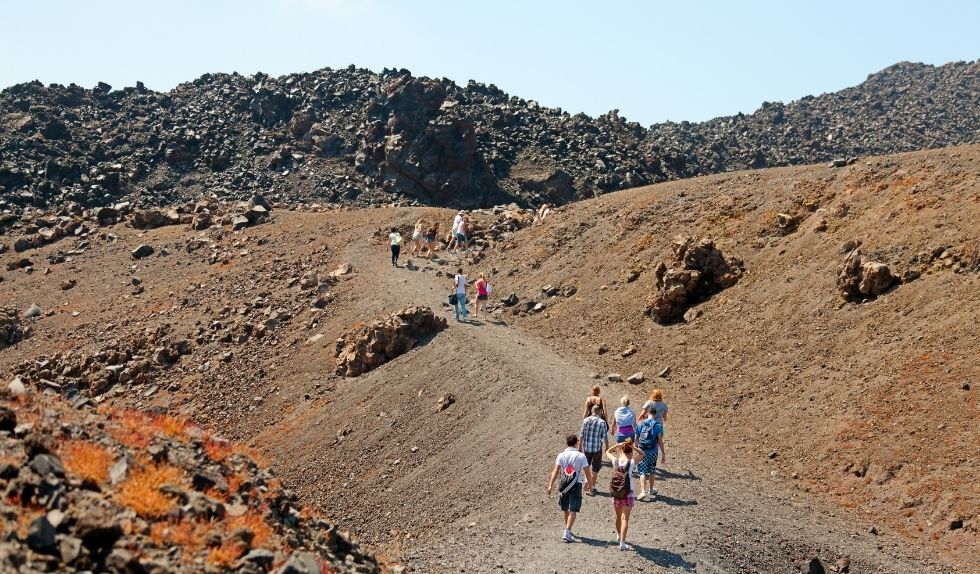 And, let's not forget the fantastic aquatic cosmos with the sleeping ship wrecks, the underwater caves and steep cliffs, and the rich marine life with the rare schools of fish. All these, of course, don't just distinguish the area around the Santorini volcano, but the entire island, including the scenic islets of Palea Kameni and Nea Kameni, perched on the infamous Caldera.
Undeniably, the Santorini volcano is a spectacle on its own. And, truth be told, the history behind it creates feelings of awe and admiration, one way or another. Here are some exciting details that will probably rivet you!
From land of the glorious Minoan civilization to rediscovering itself
Somewhere around 2000 BC, the Minoan civilization was flourishing across the Aegean islands, Santorini included. According to historians, the Minoans were way ahead of their time. Excavations in the ancient Akrotiri settlement in Santorini have unearthed things like elaborate constructions, in-house baths with hot water, and underfloor heating systems! Unfortunately, the eruption of the Santorini volcano around 3,600 years ago destroyed this thriving civilization.
Ever since, the volcano has roared a few more times, with the last blast occurring in 1950. All these violent bursts of Mother Nature have forced islanders to reinvent themselves and figure out new ways to keep living and blossoming on the island since the world they once knew was covered in thick volcanic ash and buried under tons of lava.
On the other hand, though, the cataclysmic events that took place in the past 2000 years in Santorini have given birth to phenomenal beauties, such as the Santorini Hot Springs, which are notorious not only for their therapeutic waters, but also the heart-stopping sunset views!
Santorini and the myth of Atlantis
An increasing number of evidence coming to light in the most recent years suggests that Santorini has more and more in common with the lost city of Atlantis. Known for its pioneering technologies and futuristic inventions, Atlantis is believed to have disappeared after a massive natural destruction. Could this be related to the Minoan civilization and the destructive activity of the Santorini volcano? The unimaginable riches, the extraordinary findings, and the lavish remains excavated from Akrotiri settlement in Santorini definitely point toward that direction.
Ways to see the most of Santorini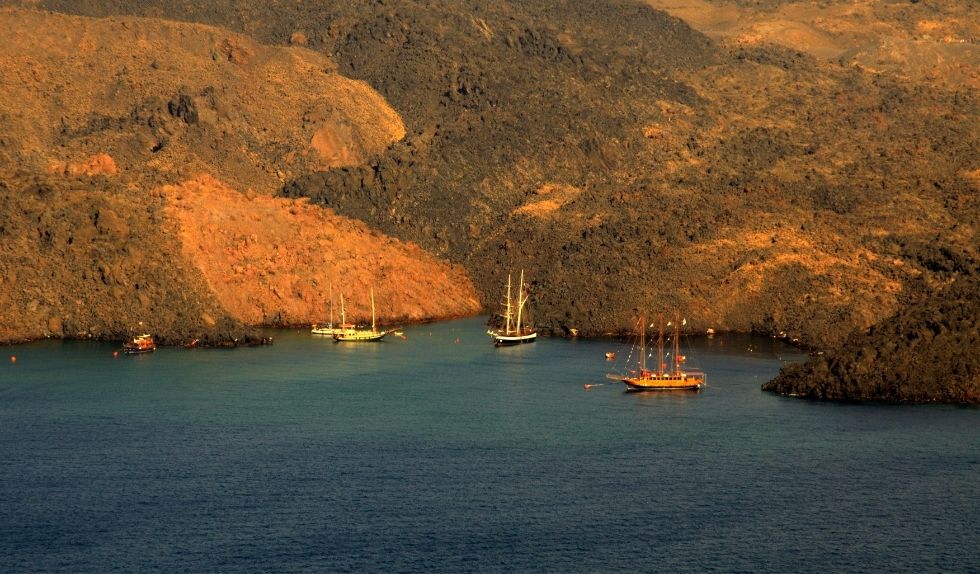 Whether you are spending your next summer holidays in Santorini or have decided to have a Santorini honeymoon, there are many ways to soak up the unique beauty of this island. Here are some ideas:
Have a private or semi-private tour around the island
Many Santorini boat tours offer you the chance to see major sights like the hot springs and Akrotiri village, and do not specifically focus on the volcano. This enables you to lay eyes on a plethora of other spectacles Santorini is so renowned for, such as its blue-domed churches, and experience the vibrant night scene, among others.
Or even throw yourself to endeavors that include BBQ evenings onboard a luxury yacht, dives to remote beaches, exploring isolated coves, snorkeling, scuba diving, or romantic dinners amidst the endless blue of the Mediterranean.
Rest assured that the friendly receptionist at Maison Des Lys, the most prominent Santorini hotel with a private pool, will be more than happy to help you live your dreamy Santorini escapade or honeymoon. Just ask for their aid!
Opt-in specifically for a volcano tour
Choosing to go with a Santorini Caldera tour will allow you to see even the smallest detail and try new adventures. For example, you can hike up the volcano, mingle with the locals and get a tasty treat (islanders are particularly friendly and hospitable and will not hesitate to offer you a glass of local wine or homemade pie if you happen to pass by their village)! You could also stop by the volcanic islands of Nea Kameni and Palea Kameni and sunbathe on the volcanic, pebbled shores.
Have a customized Santorini tour
This option gives you the freedom to plan out exactly the tour you wish to have in Santorini. For instance, you could sail to nearby Cyclades islands or try some island hopping with a helicopter ride, before you head back to Maison Des Lys luxury hotel in Santorini.
Or you may prefer to have a Santorini sunset tour that will introduce you to the best and less crowded and touristy options. Additionally, you might combine more items of your to-do list and create a multi-day experience per your needs and requirements. Can't get any more exclusive than that!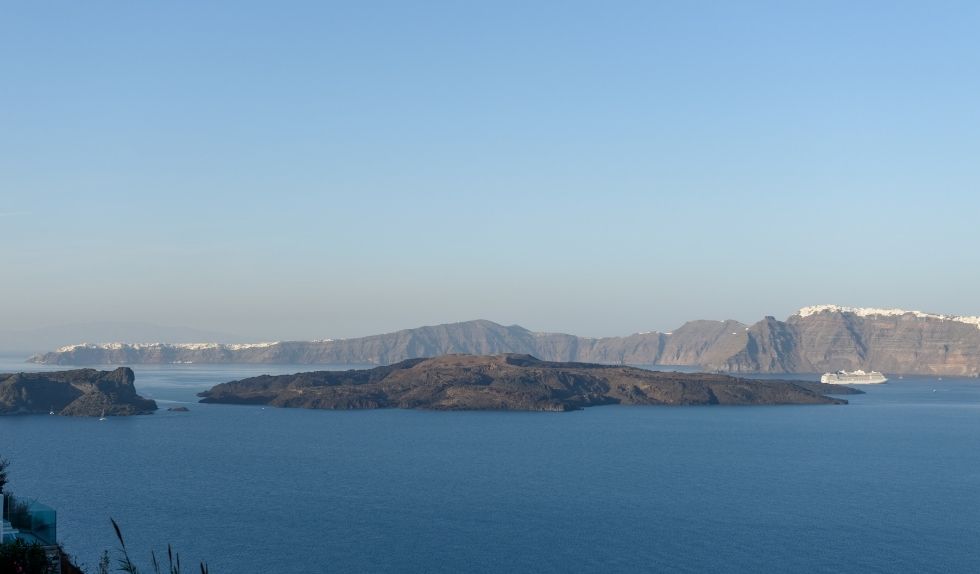 For any information about the Santorini volcano or if you need help scheduling the perfect Santorini tour for you and your loved ones, please do not hesitate to contact us.