When you think of a Greek Island paradise, does Santorini come to mind? Do you dream of gazing golden sunsets, lying on exquisite beaches, exploring archaeological sites, and strolling through quaint villages?
Perhaps this year you should plan your vacation in Santorini Greece. This page provides you with a short guide to the island, including a Santorini map and travel information about beaches, sightseeing and attractions on Santorini Island Greece.
In addition, we mention ways to reach the island from various places in Greece.
Distances
From the Maison Des Lys Hotel Suites at the Santorini Caldera, guests can easily reach the following destinations:
Akrotiri Town: 500 m
Perissa Town: 10 km
Fira Town: 15 km
Santorini Airport (Monolithos): 13 km
Santorini Port (Athinios): 8 km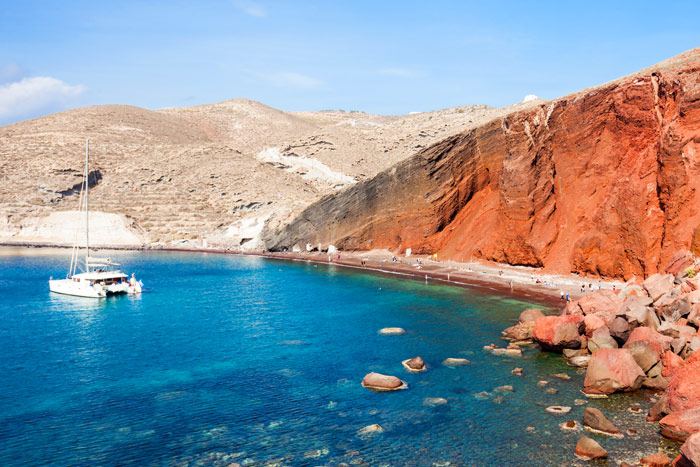 SANTORINI BEACHES
Santorini is a beach lover's ideal holiday spot. Many of the beaches on Santorini Island are known for their colorful sands and dramatic scenic views, such as the black beaches of Kamari, Perissa, Perivolos and Monolithos, as well as the magnificent Red Beach and White Beach near Akrotiri Santorini, which are embraced by reddish and whitish cliffs, respectively.
Other beaches worth visiting are Ammoudi, Armeni and Baxedes near Oia and Vourvoulos in northeastern Santorini, which are easy to find on your Santorini map.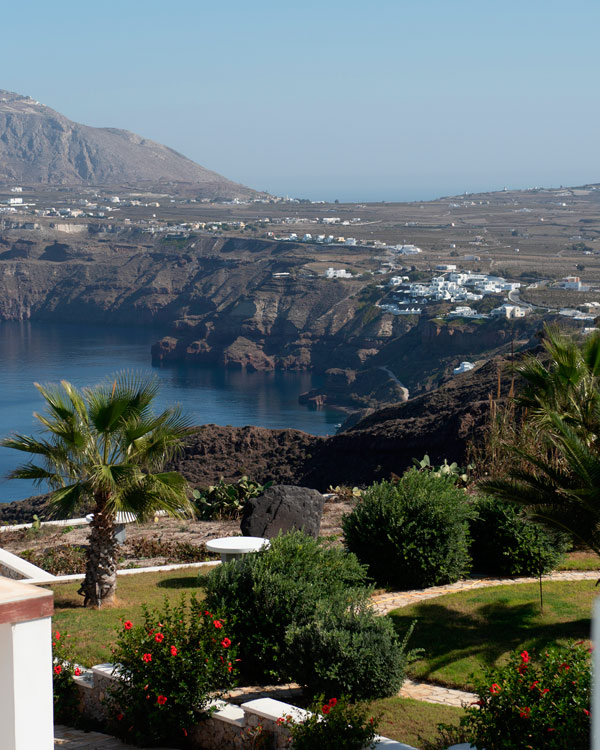 SANTORINI SIGHTSEEING
The Maison Des Lys is located close to one of the most precious sites of Ancient Greece: the Prehistoric Settlement of Akrotiri Santorini.
Excavations of the site began in the middle of the 20th century by Professor S. Marinatos, who believed that Akrotiri in Santorini was connected to the Lost Continent of Atlantis. The site is extremely well-preserved, with houses, storage spaces, staircases, roads, a drainage system and other astonishing features.
The site of Ancient Thira is also located relatively close to the Maison Des Lys Hotel, on a hill between the settlements of Kamari and Perissa. Ancient Thira was used as a look-out during ancient times, to protect the island against invaders. The site includes a number of ruined structures, such as sanctuaries, temples, an agora, a theatre, a stoa, and a gymnasium.
In the capital town of Fira, we recommend taking a stroll through the narrow streets and visiting the Museum of Prehistoric Thira, as well as the Archaeological and Folklore Museums. You may also like to see splendid cathedrals and the Gyzi Manor in Fira Town, or the marvellous Maritime Museum in Oia. No visit to Santorini is complete without a trip to the volcanic isles of Thirassia, Nea Kameni and Palea Kameni, which are located in the famous Santorini Caldera.

HOW TO TRAVEL TO SANTORINI
To reach Santorini, you can take an airplane from Athens Airport or a ferry boat, high speed boat from Piraeus Port.
1. Flight from Athens Airport to Santorini Airport
Athens Airport "Eleftherios Venizelos":
Tel. +30 210 353-0000
https://www.airport-athens.com/
Olympic Airways:
Tel. + 30 210 35 50 000 or 801 801 01 01
https://www.olympicair.com/
Aegean Airlines Athens:
Tel. +30 210 626-1000 or 210 626-1700
https://en.aegeanair.com/
2. Ferry boat or high speed boat from Piraeus Port to Santorini Port
Piraeus Port – Call Center: Tel. +30 210 14541
Hellenic Seaways Piraeus: Tel +30 210 8919010, +30 210 8919800
https://hellenicseaways.gr/en/
Blue Star Ferries Athens: Tel. +30 210 8919800, 210 8919010
https://www.bluestarferries.com/en/
HOW TO TRAVEL FROM SANTORINI
1. Flight from Santorini Airport to Athens Airport
Santorini Airport (Monolithos): Tel. +30 22860 28400
http://www.santoriniairportguide.com/
Olympic Airways Santorini:
Tel. +30 2286031525 and 2286031538
https://www.olympicair.com/
Aegean Airlines Santorini: Tel. +30 22860 28500
https://en.aegeanair.com/
2. Ferry boat or high speed boat from Santorini Port to Piraeus Port
Piraeus Port – Call Center: Tel. +30 210 14541
Hellenic Seaways Piraeus: Tel +30 210 8919010, +30 210 8919800
https://hellenicseaways.gr/en/
Blue Star Ferries Athens: Tel. +30 210 8919800, 210 8919010
https://www.bluestarferries.com/en/