10 Fabulous Santorini Beaches To Pamper Yourself With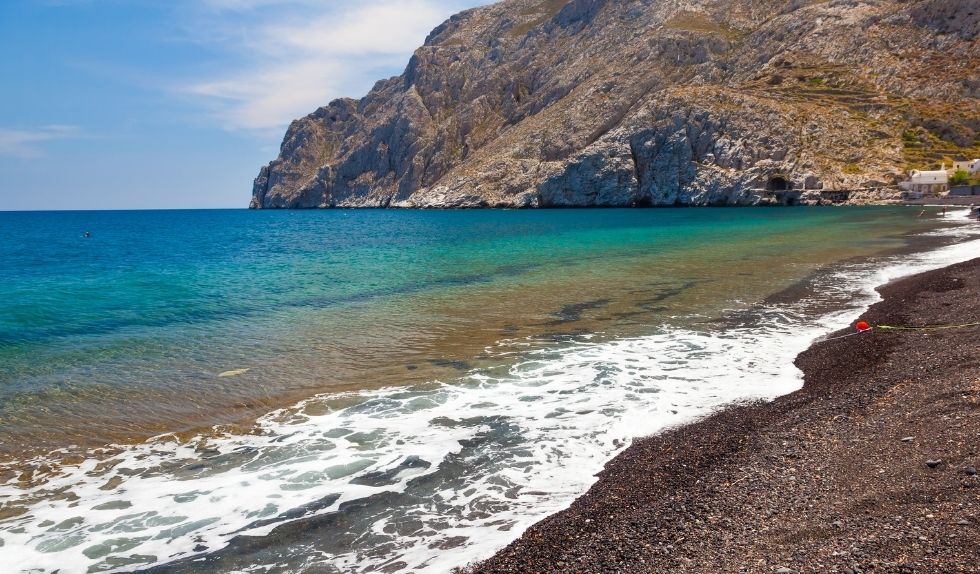 Santorini amazes with its unique volcanic formations and landscape. Combined with the traditional Cycladic architecture, constructions not seen elsewhere in the Cyclades (i.e., the Caldera cave houses), and the romantic sunsets, Santorini is, no wonder, a popular destination. Part of its appeal has to do with its somewhat quirky shores. This guide will walk you through some of the most adorable beaches, along with more private and isolated options to choose from.
The infamous Red Beach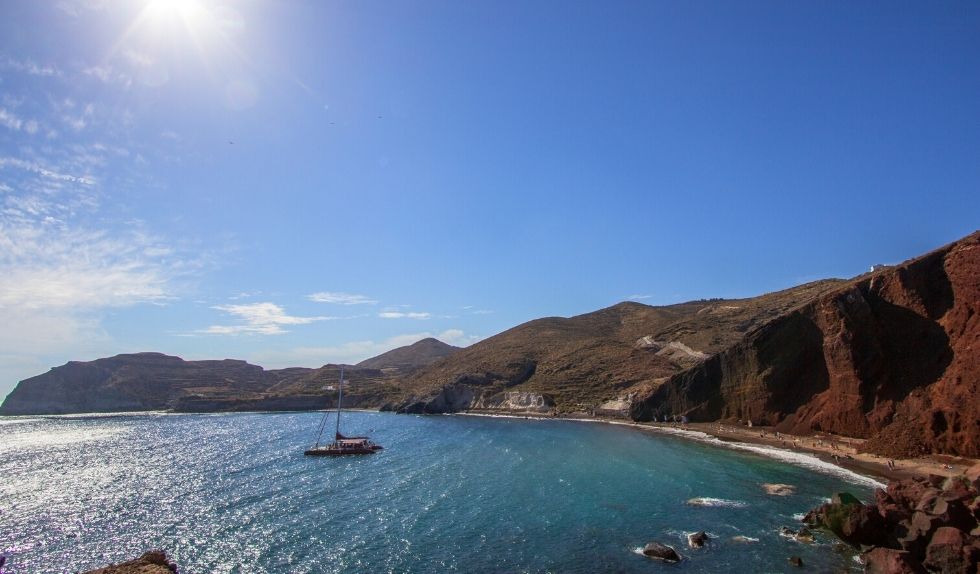 Of all Santorini beaches, this is probably the most captivating as it features a dramatic red-cliff scenery along with absolutely crystal clear waters. As expected, the sand here is comprised of red pebbles – a result of the intense volcanic activity of the past years in Santorini.
Situated in the Akrotiri region, not far from your Maison Des Lys Santorini cave suite, this semi-organised shore is perfect for snorkelling and diving adventures, as well as swimming and sunbathing. There are a few umbrellas and sunbeds but no other facilities. However, it is sun-protected thanks to the imposing ridges that surround it, creating magical scenery.
Plus, it is easily accessible by car or bus if you are willing to walk downhill for a short while to reach the beach. If not, do consider using the water taxis that depart from Kamari, Perissa, or Akrotiri port.
Tip: The archaeological site of Akrotiri Santorini, is very close to Red Beach and is certainly worth a visit. You'll see the remains of a civilisation that is believed to be tied with the Atlantians and the Lost City of Atlantis!
The magnetic Vlychada Beach (aka White Beach)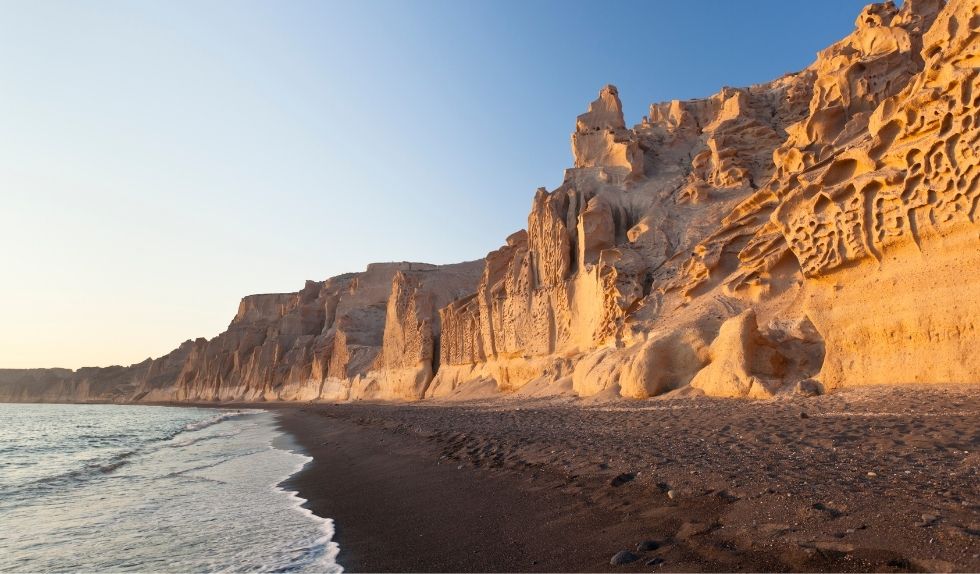 This is yet another shore with a majestic cliff as a backdrop. Only, in this case, the cliff is white (hence, the name of the beach), and the sand is black. The waters here are perfect for families with children that can swim in the shallow and calm sea or relax under the umbrellas. Expect lots of canteens and sunbeds, taverns, and even a yachting and sailing centre to entertain yourself with water sports-related Santorini activities (and not only).
Vlychada belongs to the Perivolos region and is a few kilometres from the island capital. It can be reached by bus (buses run regularly in the high-season months) or even the picturesque train that becomes alive every summer.
The idyllic Eros Beach
Not far from Vlychada is Eros Beach that has a unique way to steal visitors' hearts. Eros is one of those Santorini beaches that you definitely need to include in your itinerary to swim, sunbathe, or even experience a soul-pleasing horse riding endeavour! This small, romantic shore is pretty quiet but surprisingly quite well organized, providing sunbeds, loungers, and a beach volley court!
The white cliffs that complete an already perfect picture make Eros Beach one of the most preferred Santorini beaches for wedding ceremonies and wedding proposals. Also, the upscale atmosphere infused in this shore with the stylish beach bar and the luxury amenities (though fewer than other more organized siblings) give added reasons to visit this remote stretch of black sand.
The Fabulous Twins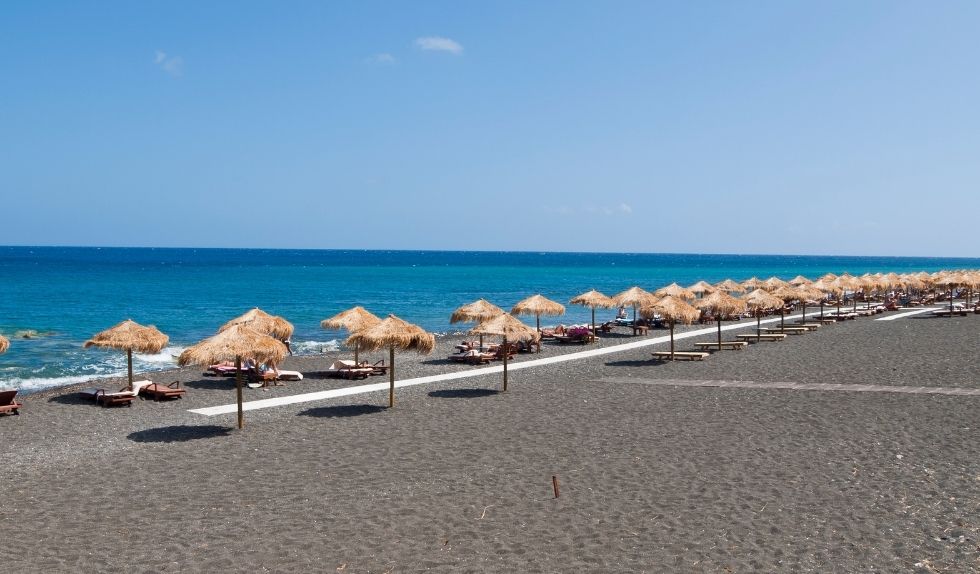 At this point, we are introducing two almost identical black-sand Santorini beaches, Perissa Beach and Perivolos Beach, on the southeast coast. Separated by a small awe-inspiring mountain called Mesa Vouno, the two shores are well organised, with Perissa being a tad longer and more organised than Perivolos. Nevertheless, Perivolos is wider and quieter. Both please with diving centres, umbrellas and sunbeds for rent, bars, parking spaces, and tavernas.
From there, you can easily get to Oia, Fira, the Red Beach, Vlychada Beach, and many more local attractions. To get to one of the two shores, you can take the bus or drive in your own car.
The family-friendly Kamari Beach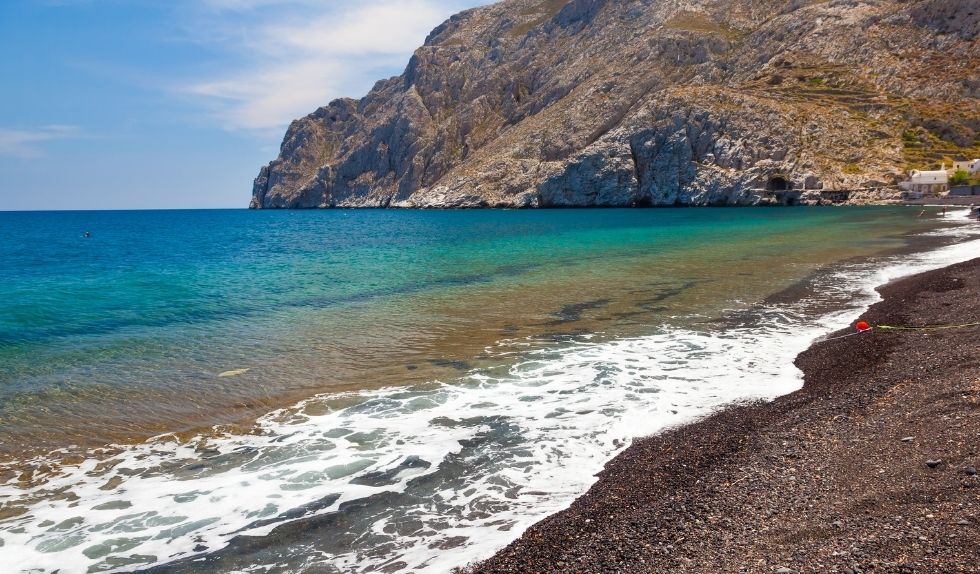 Kamari is perhaps the shore with the best sand composition of all Santorini beaches, as it features great sand: black pebbles ratio. It also provides lots of shade thanks to the trees that surround the place, along with a satisfactory range of tourist facilities, including diving centres, cafes, beach bars, umbrellas, sunbeds, taverns, and water sports amenities.
Many tourists love the romance exuded from this part of the island and come here for the scenic Santorini sunset panoramas. It is also an excellent option for hikers and nature lovers, who can take any of the paths that lead to the top of the mountain adjacent to Kamari. And, if you are lucky and the open-air cinema is open when you visit the beach, you can pat yourself on the back for the unique experience!
To get to Kamari beach, you can drive or use public transport from either the Santorini port or Fira.
The mysterious Monolithos Beach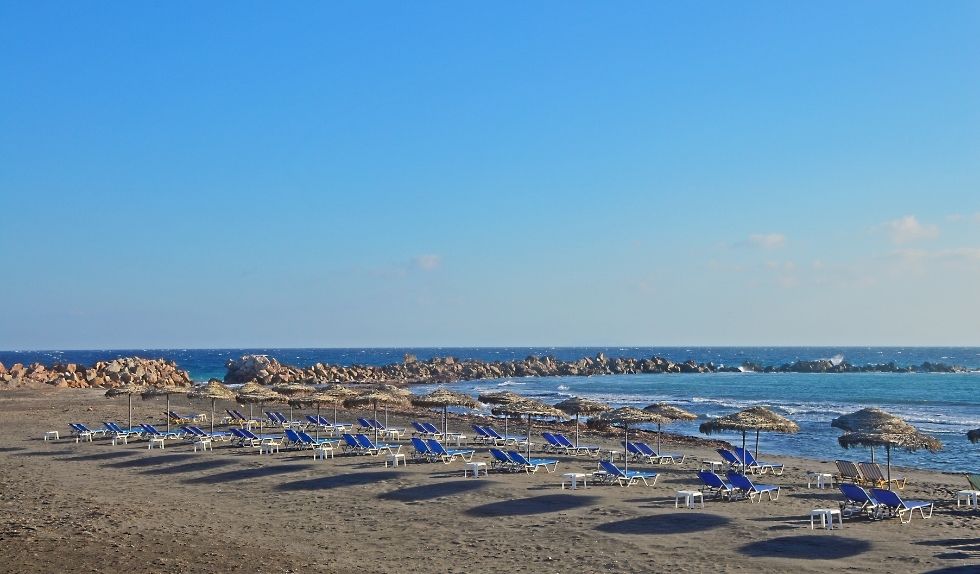 The oddly-shaped rocks and cliffs and the sandy shore will catch your attention from the first second you lay eyes on Monolithos Beach. The waters are absolutely fantastic (shallow, with hundreds of shades of blue), and there is even a playground for the little ones to have a blast while you enjoy yourself playing football, basketball, or beach volley at one of the available on-shore courts and pitches. Besides sunbeds and umbrellas, the beach also pampers with cafes and restaurants, as well as easy access from the Athinios port, Fira, or the Santorini airport.
The hypnotising Ammoudi Bay
Ammoudi Bay is the port of Oia and a delightful, densely populated settlement with a beautiful beach. Here, it feels like the time has stopped, providing laid-back experiences and magnificent views. The often crowded Santorini neighbourhood welcomes visitors with cafes, restaurants, and tavernas serving delicious seafood and traditional Greek cuisine. Being a popular port, Ammoudi Bay is a frequent stop to boat tours heading to the Thirassia island and the enchanting Santorini Caldera.
Feel free to enjoy activities like windsurfing, snorkelling, and swimming and, if you are daring enough, why not climb up that cliff and take a dive straight into the cobalt waters of the Aegean? As for your transfer needs, the Maison Des Lys Santorini luxury hotel can arrange for private transfers for you and your loved ones if you so desire.
Beaches Offering More Private Adventures
Some pristine shores you could also visit and be away from the crowds and enjoy more privacy and seclusion are:
Mouzakia Beach – A quiet beach between Oia and Imerovigli, featuring a captivating submarine world worth exploring.
Agia Eirini – A northern coast at Thirassia island with bewildering vistas of the Aegean Sea and absolutely no tourist facilities (totally raw beauty and unspoiled land).
Akra Mavro Vouno – Nicely tucked between the Akrotiri Lighthouse and Mesa Pigadia, it is a west-facing shore that provides utmost privacy. Apart from the small remote cove on the shore, there are plenty more of these to discover underwater!
Closing a Perfect Day by the Beach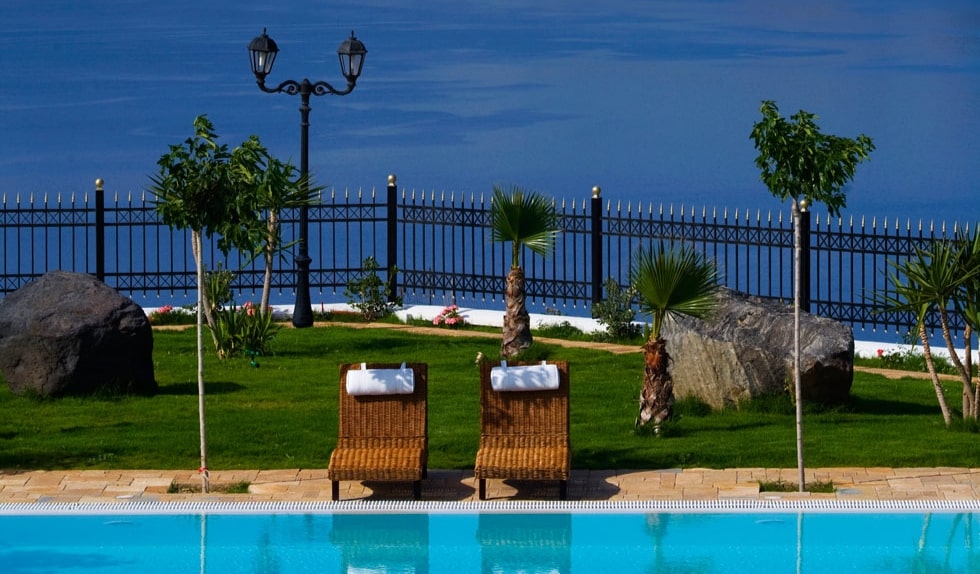 After visiting one or more of the heavenly beaches in Santorini, you can return to the comforts, privacy, and exclusivity of your Maison Des Lys suite and relax with a chilled glass of local wine or champagne at hand. And, if you don't feel like hitting any of the nearby shores, Maison Des Lys is  a Santorini hotel with a private pool to spoil its guests! Have a refreshing dive while soaking up fantastic views of the glistering sea and the charms a Greek island like Santorini has to offer!