10 Santorini Activities for the Most Exciting & Fun Time in Santorini
Besides being overwhelmed by striking views of the infamous Santorini sunsets, the Queen of the Cyclades welcomes visitors with an amazing range of activities that can spark their holidays. This guide presents 10 of the most stirring things you can try for maximum fun and enjoyment with your friends, family or significant other!
Besides being overwhelmed by striking views of the infamous Santorini sunsets, the island welcomes visitors with an amazing range of Santorini activities that can spark their holidays.
1. Jet Ski
One of the best Santorini activities to explore the mesmerizing scenery. Hop on your own jet ski and follow your guide's boat to have an all-around exploration of the hypnotizing island. Don't forget to strike a pose, so you capture your memorable moments on camera! While jet skiing, you will have the chance to visit areas only accessible by sea.
Note that most tours can even be adjusted to your requirements. Plus, you can choose the tour that suits your riding level or combine it with other Santorini activities, such as snorkeling.
Where? Most jet ski escapades start and/or end at Perivolos beach and either head to Red Beach, Vlychada, and the Santorini lighthouse or go to the Caldera and the volcanic islands of Palea Kameni and Nea Kameni. Or it could be a tour to the southern part of the island, with stops at Skaros, Ammoudi Bay, and Thirassia.
2. Parasailing

A parachute glide over the shimmering waters of the Aegean Sea using a parasailing boat is an experience you definitely need to have. You will not only feel your heart with exciting moments but also get to gaze at staggering views of the island. Imagine how Santorini would look from 100 metres (300ft) high up in the sky! You may even be able to see as far as Akrotiri Santorini!
Again, many parasailing tours go over the Perivolos coast and the idyllic coastline of the south. A crew of certified professionals will handle all aspects of this adventure, so you have a safe and fun ride. To take this flying adventure to another level, you can opt for a Santorini sunset panorama and take off in the afternoon.
3. Scuba diving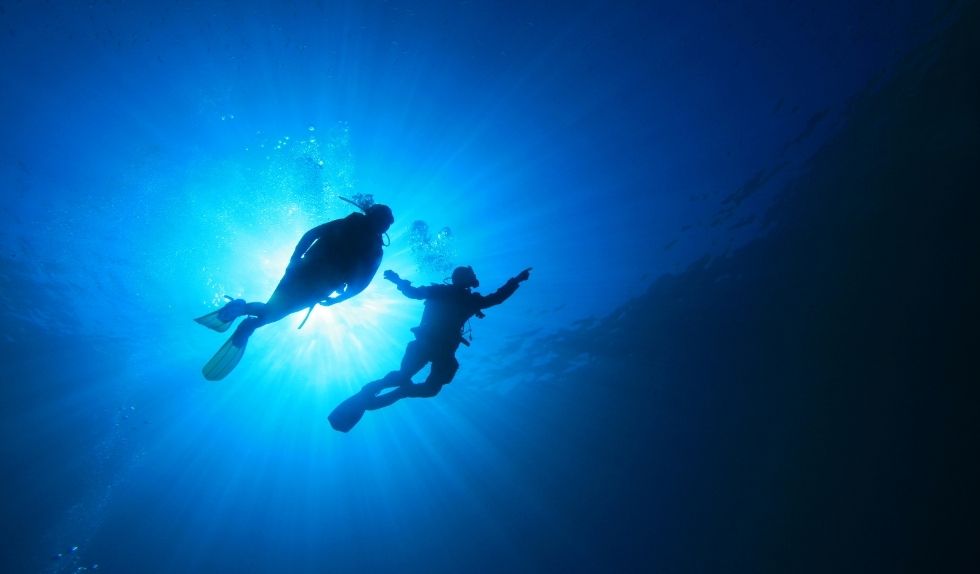 Feel free to explore the impressive volcanic underwater cosmos at Santorini with scuba diving gear. The particularly enticing geological background of Santorini has led to the opening of many scuba diving centres across the island and popular tourist places like Perivolos. Kamari, and Perissa. There, you can select the dive course that matches your level and age and either go for an organised Santorini private tour below the surface of the water or an individual dive. The most famous diving sites (of around 40 in total) are within the Caldera, as well as Caves Lagoon (close to Kamari beach), Perissa Rock, and Faros Reef (after the lighthouse). If you also want to lay eyes on things like shipwrecks, then choose the volcano of Nea Kameni that is home to a tour boat shipwreck.
4. Helicopter tour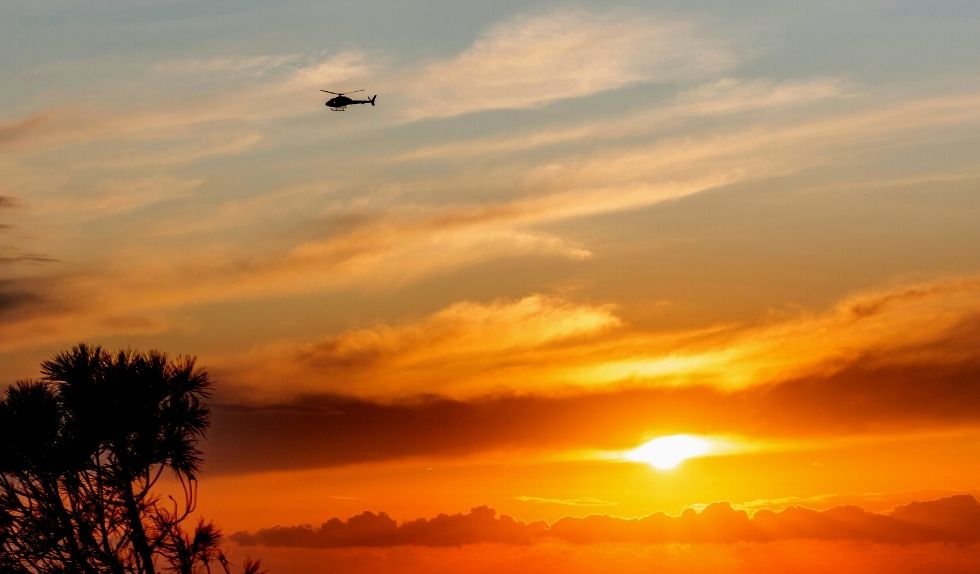 If parasailing is a thrilling must-have, then a helicopter ride will leave you speechless. Seeing the island with a bird's eye view is undoubtedly one of the most rewarding Santorini activities. Expect dramatic cliffs of varying colours and formations dropping into the crystalline waters of the Mediterranean. The scenic landscape features the imposing Caldera and the rocky terrains – reminders of the powerful volcanic eruptions that shook the entire island.
As you fly above charming, whitewashed houses with the beautiful Cyclades architecture and the blue-domed churches, let yourself wander in fairy-tale-like dimensions infusing romantic notes and creating unforgettable memories. This could be the next best thing view-wise for you, besides enjoying the panoramas offered by your Santorini Cave Suite at Maison Des Lys!
Usually, helicopter rides are scheduled throughout the island and take you past Oia, Thirasia, the Old Harbour, Pyrgos, Red Beach, and other popular sites.
5. Sea Kayak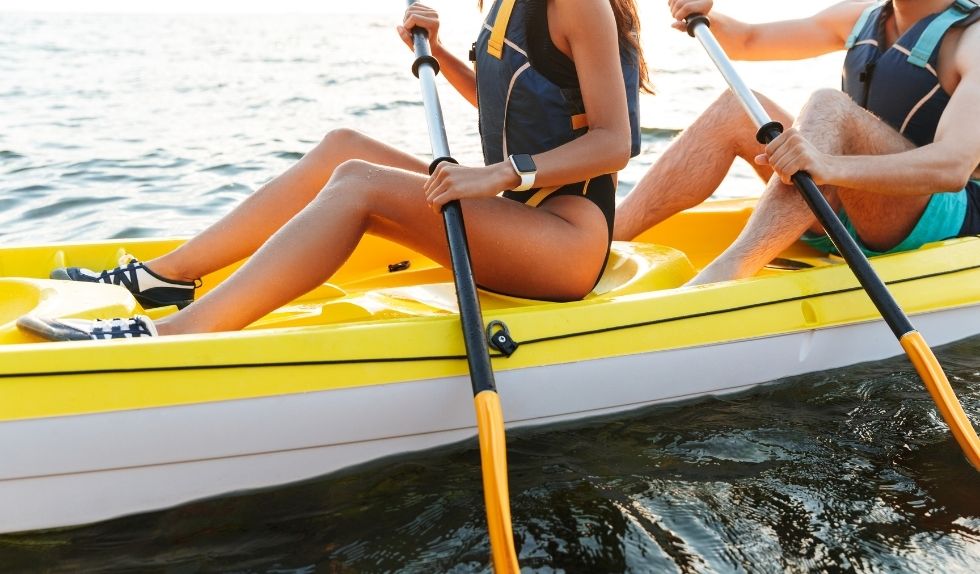 If you love the idea of passing the scenic Santorini beaches with the volcanic sand and snorkeling the azure waters of the Aegean Sea, then sea kayaking is one of the best Santorini activities to sign up for. A perfect endeavour for families with kids over 7 years old, friends, and couples, sea kayaking can be as private an experience as you want it to be. And, if you are new to this, your sea kayak instructor will give you a quick introduction to the sport and familiarize yourself with kayak navigation and the equipment you will use. Ready to paddle by the absolutely mind-blowing shores of Santorini and stop for picnics and swimming? Or perhaps prefer something for more advanced paddlers, like a caldera crossing instead?
6. Stand Up Paddle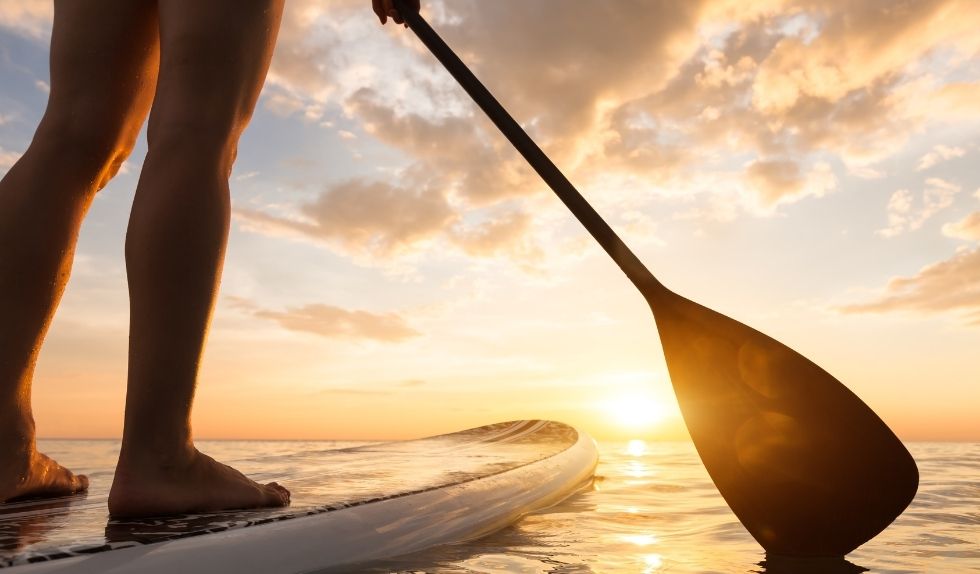 Stand Up Paddle or SUP is one of the Santorini activities that enjoy the largest growth and tourists' interest. Can't blame the thousands of SUP enthusiasts for opting for this exciting alternative to sightseeing. Plus, it is the perfect cross-training fitness workout and something everybody can do regardless of their SUP level! Designed by experienced SUP instructors, each tour (if you take a guided tour) will give you the finest views of the Caldera and Santorini.
Also, most SUP tours go downwind to help you paddle with favourable winds. Stand up or stand on your knees (if you want just a bit more to get the hang of it) and paddle with friends or even on your own.
You can choose any route you feel fond of, such as inside the Caldera, from Kamari to Perissa Beach, from Mesa Pigadia to the Red Beach, or another. You will have the chance to admire secret coves, isolated shores, the bewildering crystal clear waters, and the fantastic underwater world of the island. Then, you can relax and rejuvenate your body at the comfort and pampering of your Maison Des Lys Santorini luxury hotel. What a day, indeed!
7. Bike Tours
Now, there is a LOT to see and do if you choose a bike tour at Santorini! You may head to the southern side of the island to explore picturesque sights like the Perivolos black beach and pass through ancient trails and paths, remote traditional villages, and scenic landscapes. Of course, you can level up or down the entire experience with short rides or an enduro tour (even a private tour). The latter enables you to test your self-reliance, bike handling skills, balance, strength, and endurance while offering you a unique opportunity to pump up some adrenaline with incline climbs and technical downhill. We bet that after such a demanding outing, a return to your Santorini hotel with a private pool will seem like a gift from heaven! A perfect way to give yourself some time to chill by taking a dive in the pool or simply treat yourself with some spellbinding views from your Maison Des Lys suite!
7. Horse riding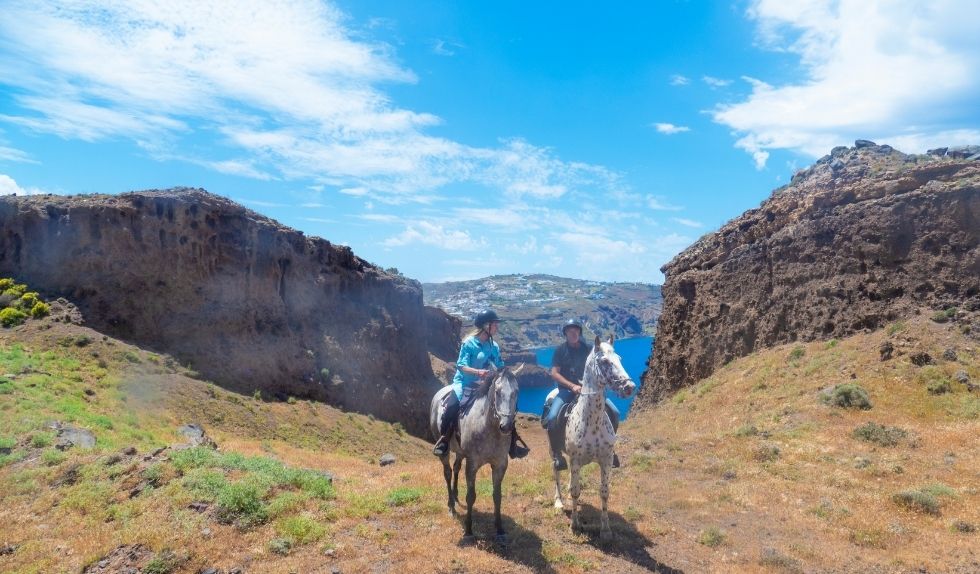 How about riding along the heart-stopping Eros (or Black) beach and lay eyes on untouched nature and pristine vistas? In this case, the Megalochori village is home to stables and exotic scenery featuring vineyards and lovely paths and trails that lead to the famous beach. As you ride freely on a majestic and friendly horse, you will pass by rock-carved ravines, canyons, and small gorges until you reach the shore with the impressive volcanic rock formations.
Regarding the best itineraries you could consider for a horse riding adventure, these could include the cobbled streets of Megalochori and see how locals go by their everyday lives, the Caldera, and the south shores. Or you could pick a tour that suits your physical level and experience and enjoy either more relaxed or energetic rides.
8. Fishing tours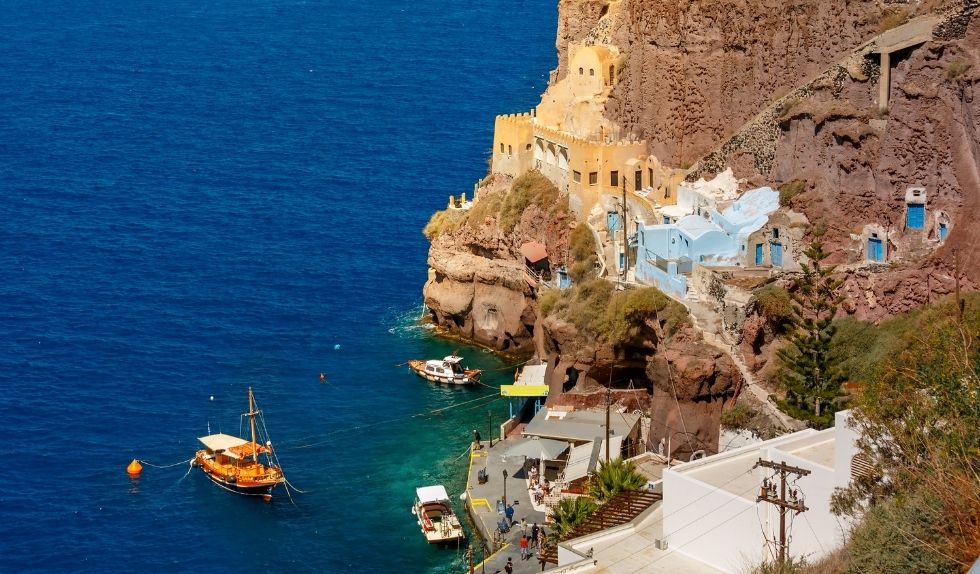 Does the idea of a fishing trip with local fishermen or your friends/family members seem appealing to you? If you an avid or amateur fisherman but definitely passionate about fishing, then having a fishing trip will be the most rewarding of all Santorini activities for sure! It is also a superb opportunity to discover the waters of the island and catch fish using the tricks and techniques local fishermen use. Needless to say, all you need to bring is your high spirits! The rest will be taken care of for you (i.e., equipment, baits, snorkeling masks, soft drinks, a shady deck so the sun won't be a problem, etc.).
Note that fishing trips are private in Santorini and that they start very early in the morning. However, they can be accommodated according to your requirements. And, they can either last half a day or a full day – your choice! A bonus activity? Stops at fish-filled reefs and even lunch with the groupers, tuna, sea bream, or other fish caught during the tour! Plus, you get to see places and attractions only known to locals!
9. Photography tours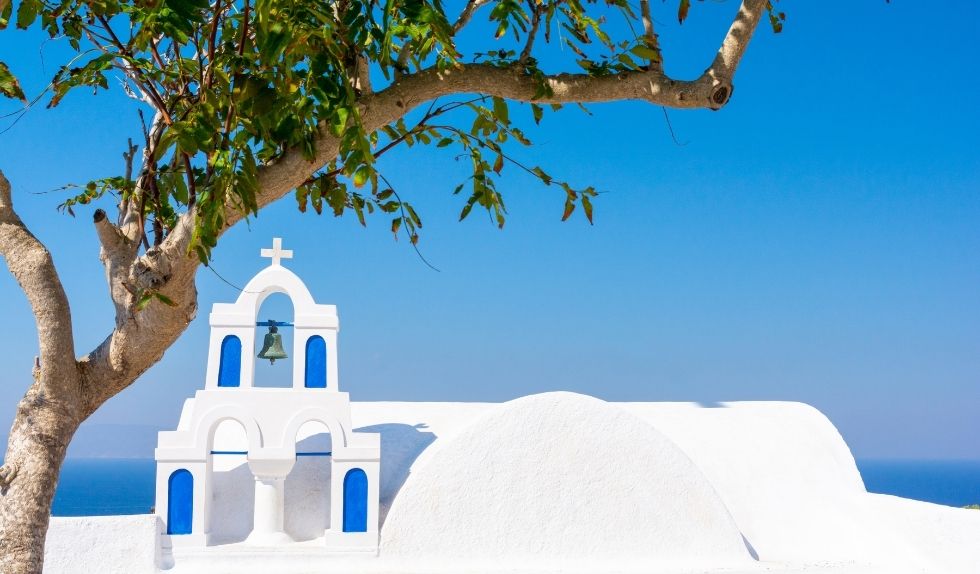 Every corner of this adorable island offers a wonderful opportunity for a photoshoot that epitomises beauty in its purest shape and form. You can take a photography tour as you explore the hidden coves and aspects of Santorini amidst idyllic settings, followed by a personal photographer capturing your precious moments in HQ images.
You may choose any of the many photography tours available and even have a professional photographer pass on their expertise to you, helping you gain practical photography skills. At the same time, you can savor places of wild beauty and unique views and even propose to your loved one! In fact, many couples having a Santorini honeymoon had previously taken the bold step with Santorini's landscape in the background.
Speaking of marriage proposals, the elegance of the Maison Des Lys Santorini private pool suites and the captivating views of the Caldera and the glistering Aegean Sea render them an exceptional option for those wishing to tie the knot and newlyweds alike. Absolute glam and magic!