Santorini Honeymoon – Romantic Tours and Activities to Celebrate your Love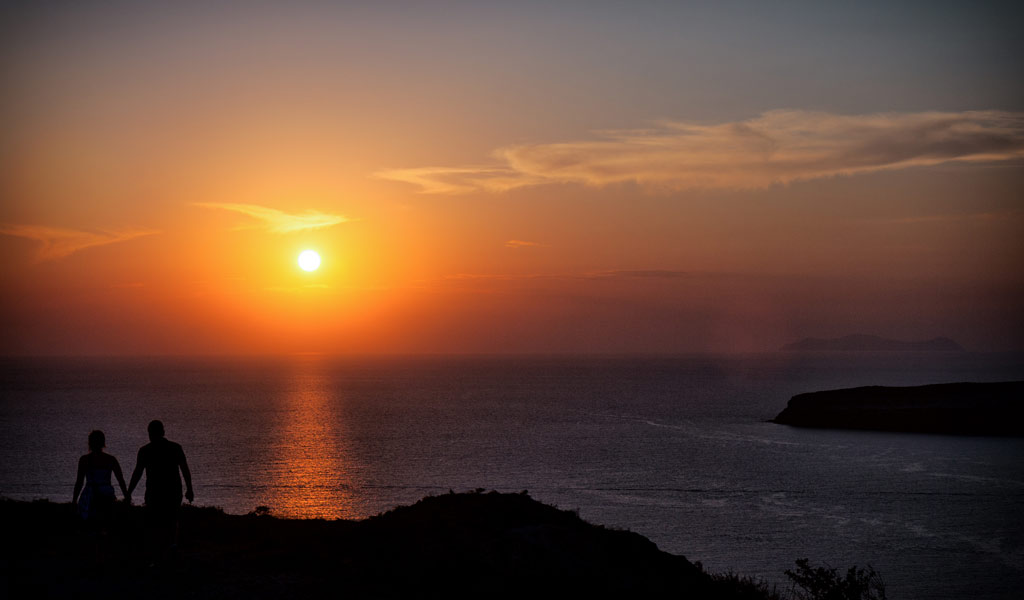 For thousands of couples across the world about to tie the knot, Santorini is the first destination that comes to mind. Every year, many romantic souls out there decide to take the next step in their relationship and get married in the most idyllic place on the planet. Others go on a Santorini honeymoon journey to cherish their time as newlyweds.
Indeed, the scenic island with the unique volcanic allure and the most heart-filling sunsets is a dreamy place to celebrate your new page in life. And, while you are taking in the magnetism of this utterly beautiful dot in the Aegean, here are some Santorini honeymoon ideas for you and your partner to dive in.
The Imposing Caldera – An Irresistible Draw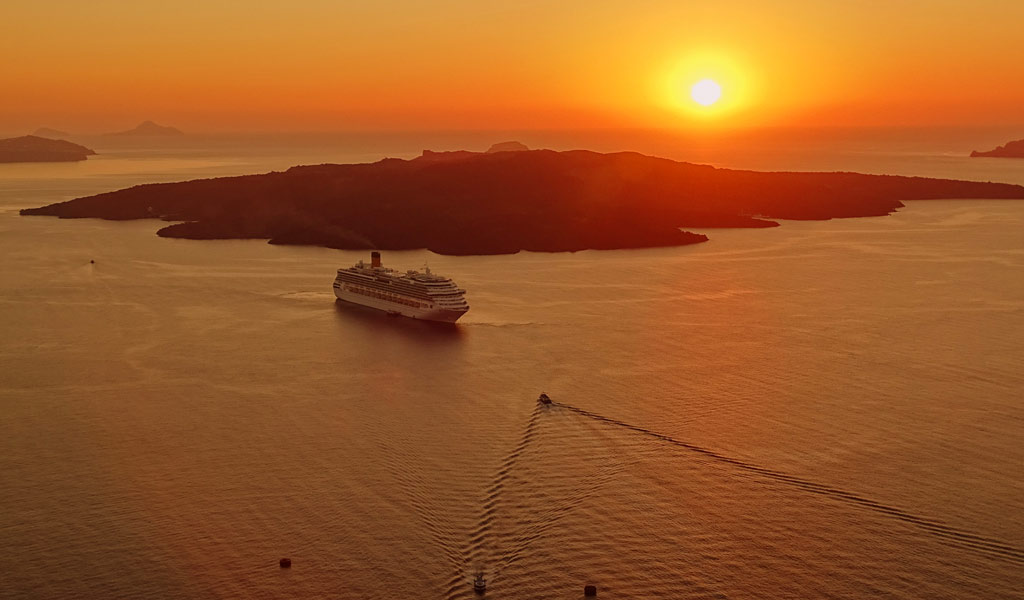 From picturesque villages and Michelin-star restaurants to remote escapes, luxury hotels, hot springs, fruity wines, and black sands, Santorini has a remarkable way of keeping things exciting for visitors. That being said, you may start your Santorini honeymoon experience with a caldera cruise.
What is fab about this particular Santorini, Greece honeymoon activity, is that there are many different ways to savour it. For instance, this can either be a walking or sailing tour. In the latter case, you will have the chance to see craggy islands, sheer cliffs, and unique views of the awe-inspiring sight. And, while there, do take a dip in the hot springs for a rejuvenating and romantic mud bath.
Note that you can even enhance your Santorini honeymoon cruise to the caldera with a catamaran, which offers a faster ride than a yacht. Or even a private helicopter ride and explore other Cycladic islands as well, such as Naxos and Mykonos! In any case, expect to be blown away from the atmospheric romance and the marvellous views as you lay eyes on incredible scenery with a bird's eye view.
Note: If you need assistance choosing the right option for you, do not hesitate to ask the receptionist at Maison Des Lys for help. We are among the very few Santorini luxury hotels that provide a full range of services to our guests for their maximum satisfaction.
Eros Beach & The Heart of Santorini – Can't it get more romantic than this?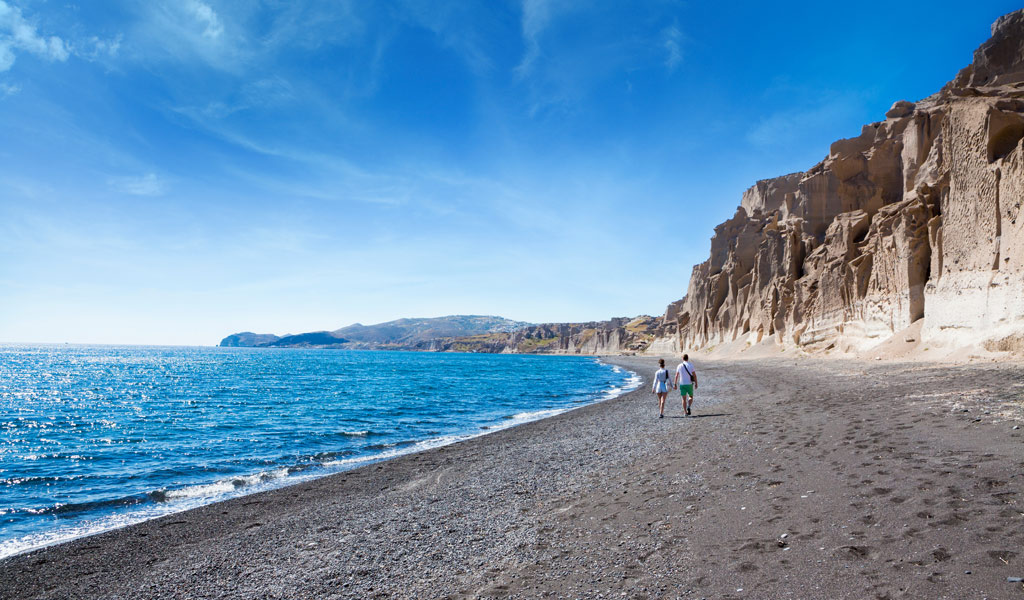 After visiting the Santorini Caldera, you could sunbathe on Eros Beach (translated as the Beach of Love). The white cliff-backed beach is located close to the popular shore of Vlychada Beach and features black sand and pebbles. The quiet and secluded spot is ideal for one-on-one escapes, away from the bustling shores of Agios Georgios, Perissa, and Kamari of the south.
Speaking of romantic spots, the Heart of Santorini is a place very little know of, which is actually a rock shaped like a heart! Do consider adding this to your Santorini honeymoon adventures! It lies on the west of Megalochori village. Want another reason to visit this site? The caldera vistas from there are literally mind-blowing!
Watching the sun slipping behind the horizon
You can't have a complete Santorini honeymoon list of activities without viewing the magnificent sunsets. Luckily, the island provides plenty of opportunities to fill your heart with the majesty of the glorious sun gliding behind the calm Aegean Sea.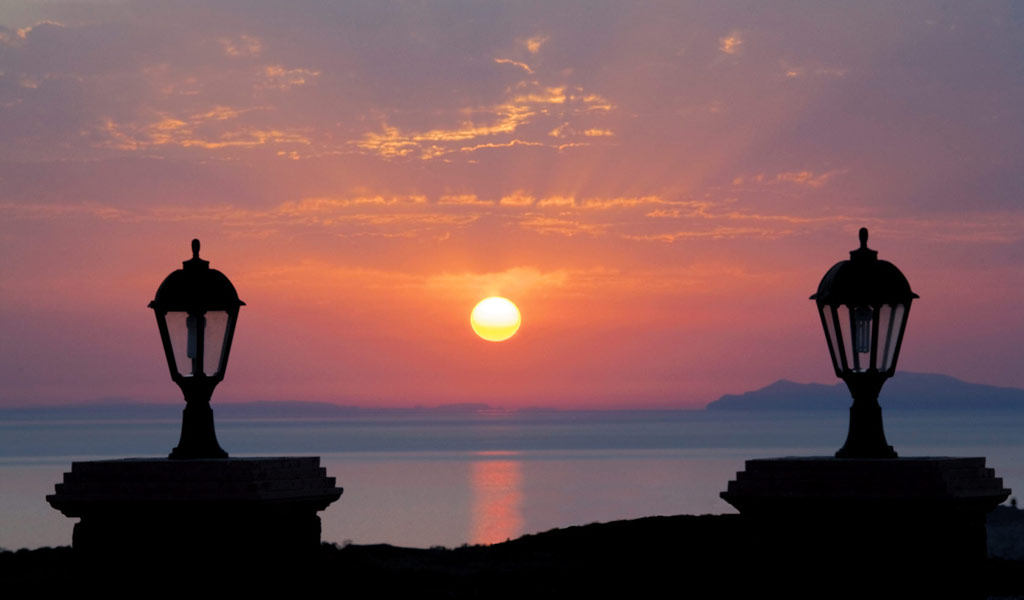 You may watch the red-orange glow of the last light caressing the whitewashed walls of the houses from Oia, the Akrotiri Santorini Lighthouse, Imerovigli, and Pyrgos, to name a few. However, there are more than enough private little nooks across the island worth discovering if you wish for more privacy!
Note: Do try to get settled a bit in advance to ensure the best Santorini sunset views, irrespective of the location you have chosen. It will get crowded pretty quickly!
Take a wine tasting tour – A one-of-a-kind experience!
Santorini has a long history in wine-making that counts hundreds of years. Using wind-protected grapes locally grown vines, winemakers produce the Santorini-famous white Assyrtiko wine (a dry wine with a lovely earthy and citrusy flavour). A wine-tasting tour will also introduce you to the unique processes implemented here to make wine while also enabling you to please your palate with delicious tastes. A Santorini, Greece honeymoon could not, of course, leave such a fascinating adventure out!
Tip: If you are not much of a wine lover, you could opt for a Champagne experience. Many Santorini honeymoon packages include dreamy evenings with the two of you soaking up the last rays of the sun and sipping champagne at a reserved table at an upmarket cocktail bar or restaurant that overlooks magical seascapes.
Stay in a Cave Suite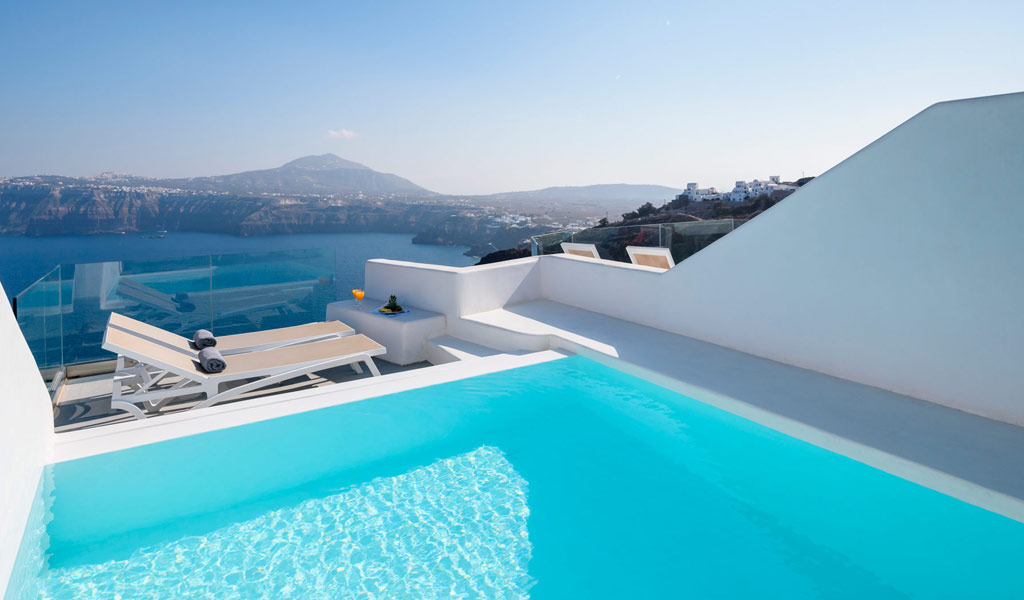 A cave suite undeniably provides the opportunity for exceptional, VIP Santorini, Greece, honeymoon experiences. Due to their distinctive and somewhat quirky design, they offer superb protection from the heat while also dazzling with their relaxing and peaceful ambience.
Maison Des Lys comes forward with luxury Santorini cave suites that blend exclusiveness, privacy, and an impressive array of facilities and amenities. With ravishing views of the Aegean Sea and the Caldera, you can indulge yourself in royal-like experiences. Your private, stone-tiled veranda or balcony, the minimalist style, and the romantic atmosphere combine to help create unforgettable honeymoon memories.
Note: You may choose another type of luxury suite as well. Feel free to browse the Maison Des Lys website to view the elegant Santorini suites with a private pool available at this moment.
Have a wonderful honeymoon!